April, 2014
News from Capital Critics Circle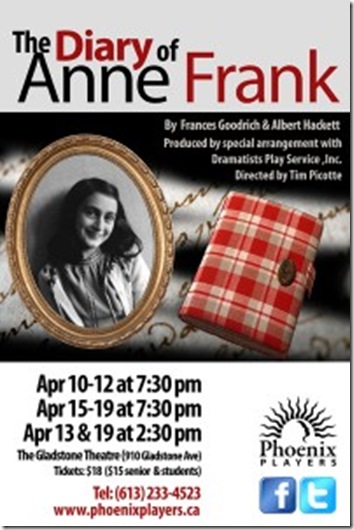 Reviewed by Kat Fournier.
The story of Anne Frank, humanizing the Holocaust, is one of the greatest modern tragedies.
Director Tim Picotte has used the 1955 award-winning script by American writers Frances Goodrich and Albert Hackett to present the dramatization of the young girl's diary. Moving, yet funny, the play is, at its core, a work of naturalism. Minute, realistic detail is built into the setting, dialogue and character.
The script spans three years in Amsterdam, and opens with a scene three years after the Franks move into their hiding place, following the end of World War II and the evacuation of the concentration camps.
The set, designed by Annemarie Zeyl, is a worn annex of an office building in Amsterdam, now transformed into a small apartment for the Franks and Van Daans. The space comprises a raised "loft" upstage of a central living room, flanked by two closet-sized rooms. The rooms are separated by curtains only, so emphasizing the lack of privacy.
Picotte offers a straightforward interpretation of the script, faithful to the original staging. Unfortunately, the approach lacks the necessary subtlety, resulting in the loss of the richness embedded in the text. The characters, played without the requisite refinement, almost became caricatures.
16
Apr
Posted:
April 16, 2014 Wednesday at 3:36 pm