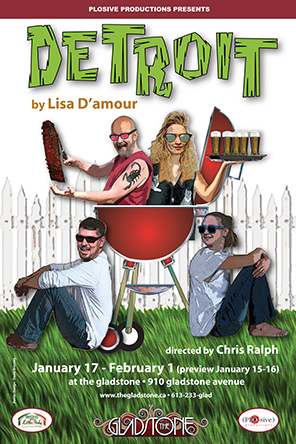 Detroit
Plosive Productions
At The Gladstone
It's enough to make you think twice about even saying "Good morning" to the guy next door.
Detroit, Lisa D'Amour's dark comedy about present-day life in the first ring of the suburbs, those subdivisions that sprang up in the 1950s and '60s but have lost some of their original neighbourly gloss, is the story of a relationship that opens with goodwill but descends into chaos.
In limning the desolation that lurks behind white picket fences, D'Amour makes clear that a similar malaise infects contemporary life itself.
Plosive Productions' scrappy and frequently very funny mounting of Detroit — it's directed by Chris Ralph — marks the Canadian debut of D'Amour's award-winning play. It tracks the story of an emerging tract-home friendship between Mary (Teri Loretto-Valentik) and Ben (David Whiteley) and their new neighbours Sharon (Stephanie Izsak) and Kenny (the especially good David Benedict Brown).
Ben has lost his banking job and wants to hack out a new career in the jungle of Internet-based financial services, while Mary is an unhappy paralegal and closet boozer. Kenny and Sharon are loose canons, both just out of rehab and more than a little suspect.
Read More at OttawaCitizen.com…
Continues until Feb. 1. Tickets: 613-233-4523, thegladstone.ca.