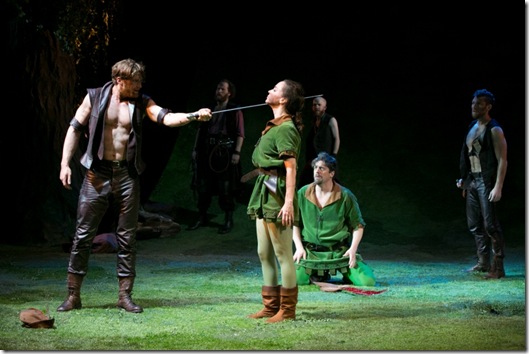 Photo, Evgenia Eliseeva.
The American Repertory Theatre (A.R.T.) is celebrating the holiday season with The Heart of Robin Hood, an updated, highly physical, and comic version of the old chestnut, with a little violence thrown in for good measure. The play, written by David Farr and directed by the innovative Gisli Örn Gardarsson, was first presented at the Royal Shakespeare Company (RSC) in England.
Gardarsson, a founder of the experimental Icelandic theatre and film company Vesturport, has staged a number of its widely renowned productions, which, like The Heart of Robin Hood, have been adaptations. In order to achieve a Vesturport-like quality at the RSC and the A.R.T., Gardarsson imported most of his technical team from the Icelandic Company.