July, 2013
Reviewed by Iris Winston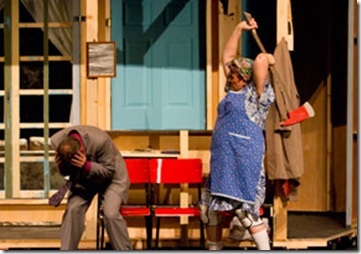 Photo. Maria Vartanova
Michael Frayn's three-act backstage farce about farce has been called the funniest comedy ever written. For first-time viewers who love the genre, maybe so, but Noises Off is also notoriously difficult to stage effectively.
Lampooning a bad play-within-a-play, Noises off features a group of weak actors at war with each other, touring a traditional sex farce called Nothing On. All the usual attributes, primarily the shedding of clothes and the constant rushing in and out of many doors are highlighted. The fact that Frayn calls for a two-level set that must be viewed from the audience and backstage perspectives at various times during the three-acts complicates matters further. Added to this, the real drama takes place behind the scenes as the Noises Off reveal love triangles and sexual liaisons gone awry and the actors seek revenge by sabotaging fellow cast members.
03
Jul
Posted:
July 3, 2013 Wednesday at 4:03 pm
News from Capital Critics Circle
The Comedy Of Errors
Written by William Shakespeare
directed by Anna Lewis
with music direction by Rachel Eugster
Featuring:
Brie Barker, David Benedict Brown, Leslie Cserepy, Rachel Eugster, Michelle LeBlanc, Anna Lewis, Tim Oberholzer, Alexis Scott, Will Somers and David Whiteley. 
Touring Ottawa Parks this summer… A time of lawlessness and danger. A time of cowboys and frontier women. Bear & Co. brings you back to the wild west in Shakespeare's mad-cap mistaken identity play, The Comedy of Errors. When two sets of identical twins find themselves in the quiet town of Galveston, passion and mayhem are bound to ensue.
Galveston might not be big enough for the both of them.
All shows start at 7pm.  Pass-The-Hat ($15 suggested donation) Bring your own blanket, or lawn chair.
SEE  Tour Schedule – July 4 – August 4
03
Jul
Posted:
July 3, 2013 Wednesday at 10:47 am
News from Capital Critics Circle
This is the first time the Ottawa  Fringe Festival has offered Critics' choice prizes
and the CCC reviewers were asked to select the winners.
Critics are: 
Patick Langston, Iris Winston, Jamie Portman,  Maja Stefanovska, Rajka Stefanovska
Alvina Ruprecht, Barbara Gray
Choices are:
La Voix Humaine
presented by Opera 5, from Toronto
Music by Francis Poulenc
Libretto by Jean Cocteau based on his play of the same name.
soprano : Rachel Krehm
pianist: Patrick Hansen
Two honourable mentions

6 Guitars                                                                          The Show Must Go On
Concieved by Chase Padgett and Jay Hopkins                A production of Random Samples
performed by Chase Padgett ,                                              Collective, Toronto
from Orlando, Florida                                                        written and performed by Jeff Leard
01
Jul
Posted:
July 1, 2013 Monday at 9:15 am