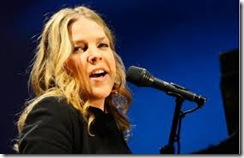 Photo from The Ottawa Citizen. Diana Krall at the NAC
A fine jazz pianist and singer with terrific timing and a great backup quintet. Isn't that enough for a first-class concert?
Apparently, Diana Krall's handlers do not think so. Rather than trusting their star, they clutter the show with a constant backdrop of irrelevant, distracting and often ugly visuals. Old movies are fine in their place, but when the sense of relief at the sight of a plain red curtain during the gaps between them is overwhelming, the clear indication is that this is not their place.