May, 2012
Reviewed by Alvina Ruprecht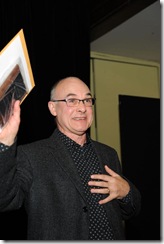 John Koensgen at the CCC theatre Awards. Winner of best director for the Extremely  Short Play Festival. Photo: David Pasho
This initiative presented by the New Theatre of Ottawa at Arts Court, brings together 11 new texts by local playwrights, all directed by John Koensgen. Each play has its own particularities, poses its own staging problems for the actors and the director, which is what certainly made the audience aware of the staging process as well as the finished product. Thus, this is a night of surprises that is certainly very entertaining. There is no doubt that this Festival should become a yearly event. Let us hope that the NTO can get more funding to allow them to expand the event over the next few years to include more actors, more directors and perhaps even more plays over a longer period of time.
Each play deserves a comment….so here goes.
07
May
Posted:
May 7, 2012 Monday at 11:59 am
Reviewed by Iris Winston
Talk about the willing suspension of disbelief. Derek Benfield's Beyond a Joke requires acceptance of a concept stretched to the limit of credibility and beyond.
Six people have died suddenly while working at Jane and Andrew's country house in England. Unfortunate accidents, it seems, but little wonder their daughter's fiancé suspects murderous intent. And when the body count goes up, his suspicion seems justified.
It is extremely challenging for actors trying to maintain a semblance of normality in such a setup, even with a realistic and workable indoor/outdoor set, designed by Paul Gardner. All but one of the cast of the Ottawa Little Theatre production directed by Dorothy Ann Gardner rise to the challenge to some degree, but only one is entirely believable throughout and completely at ease with the Oscar Wilde comedic style of making the insignificant important and vice versa.
Sarah Hearn plays Andrew's sister with total assurance as a pragmatic, no-nonsense woman, ready to roll up her sleeves to dispose of dead bodies or sit in an oasis of calm reading the newspaper.
05
May
Posted:
May 5, 2012 Saturday at 10:55 pm