April, 2012
Reviewed by Jane Baldwin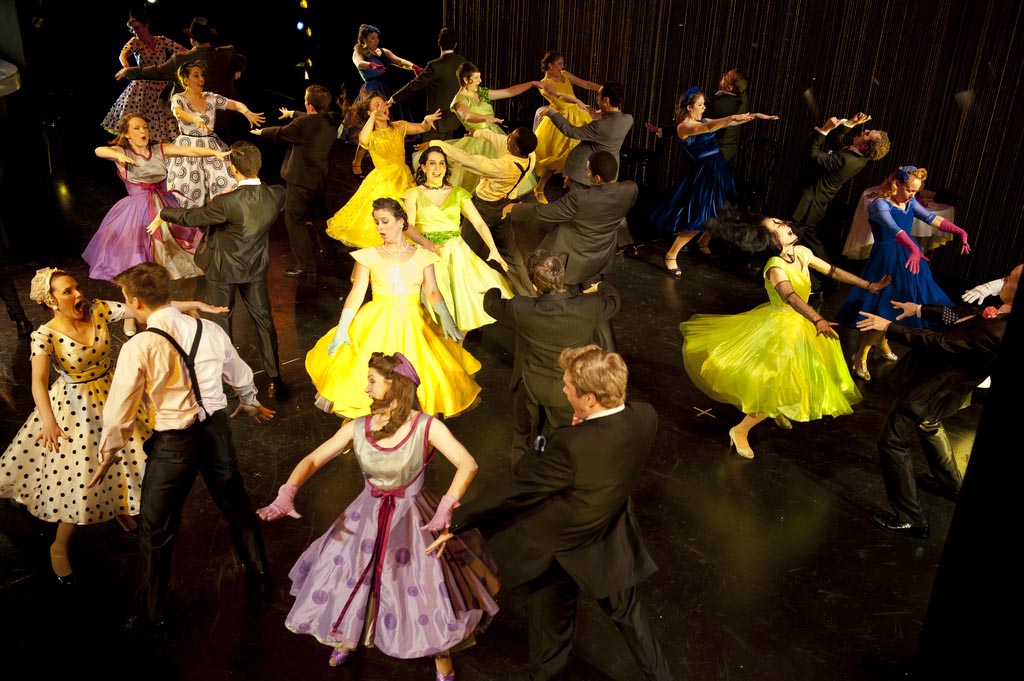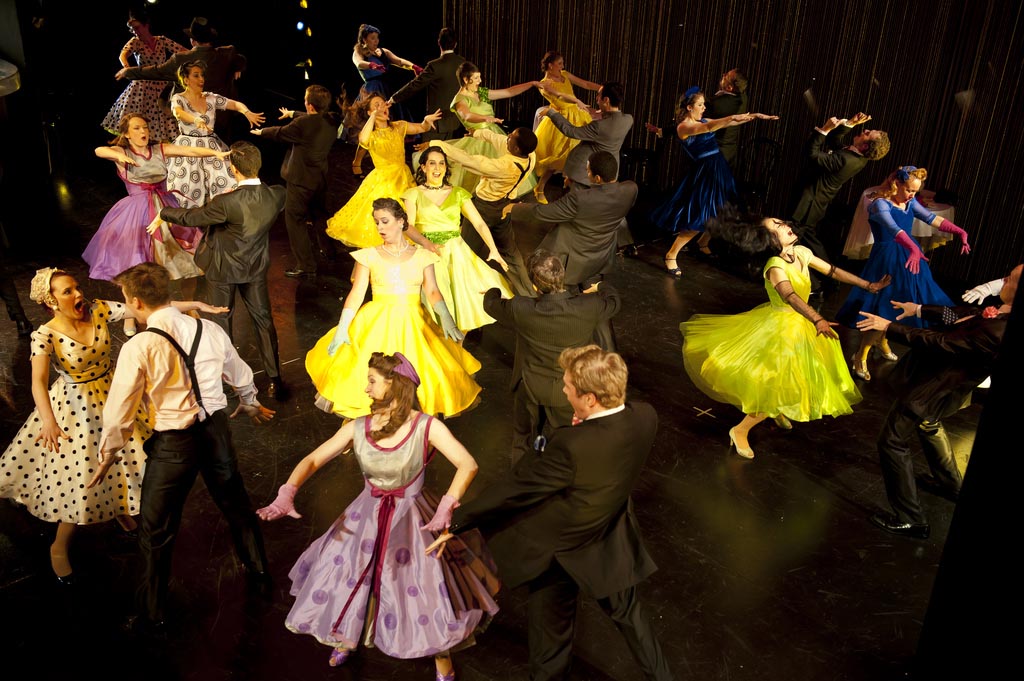 Café Variations. Photo. Paul Marotta
Café Variations arrived in town with lots of promise – a book by experimental playwright Charles Mee, directed by his frequent collaborator Anne Bogart, and music and lyrics by the Gershwin brothers. But despite this seemingly winning combination, the show never quite coalesced.
Rather than an exploration of plot and/or character, the play is an investigation of and disquisition on the problems, joys, and fears of romantic entanglements – with song and dance thrown in. The cast of thirty, composed almost equally of Bogart's SITI Company actors andEmersonCollegemusical theatre students, varies in musical and dance ability with several students outshining the professionals.
24
Apr
Posted:
April 24, 2012 Tuesday at 12:07 am
News from Capital Critics Circle
Denis Marleau et Les Femmes Savantes.
Conférence de Presse à la Délégation du Québec à Paris
5 avril, 2012
Fragments de la conférence de presse de Denis Marleau  et de Stéphanie Jasmin, à l'occasion de la présentation de son projet de création des Femmes savantes de Molière dans le cadre des Fêtes nocturnes au Château de Grignan du 28 juin au 18 août, 2012
Ce point de presse s'est déroulé  en présence du Délégué  général  du Québec à Paris :  Michel Robitaille; de la  Vice-Présidente du Conseil général  de la Drôme, chargée de la culture :   Anne-Marie Rème-Pic;  de la  Présidente des Châteaux de la  Drôme et la  Directrice des Châteaux de la Drôme.
Malheureusement mon appareil n'a capté ni les interventions de Stéphanie Jasmin, ni les questions posées  vers la fin.
Denis Marleau : Pour faire une histoire courte autour de cette proposition,  il y a d'abord eu cette découverte d'un lieu dont je n'avais jamais entendu parler, le château de Grignan qui surplombe un petit village de la Drôme.  (…) Un site extraordinaire aux portes de la Provence : une esplanade devant une façade style Renaissance, une véritable œuvre d'art  que nous avons  commencé à regarder et photographier en essayant d'imaginer une représentation théâtrale dans un tel espace.  Par la suite nous avons rencontré l'équipe qui nous a  expliqué l'historique de cet événement, les Fêtes nocturnes,  qui produit depuis vingt ans, chaque été, une création théâtrale de répertoire classique  dont la scénographie doit pouvoir instaurer un dialogue avec le lieu. (…) Ainsi, en apprenant que le château avait abrité Madame de Sévigné et sa fille surtout qui en était  devenue la châtelaine pendant plusieurs années, nous sommes arrivés naturellement à cette pièce de Molière, Les Femmes savantes, un texte qui nous mettait  en relation,  en correspondance avec une  véritable femme savante du 17e siècle (…)
05
Apr
Posted:
April 5, 2012 Thursday at 7:28 am