March, 2012
Reviewed by Jane Baldwin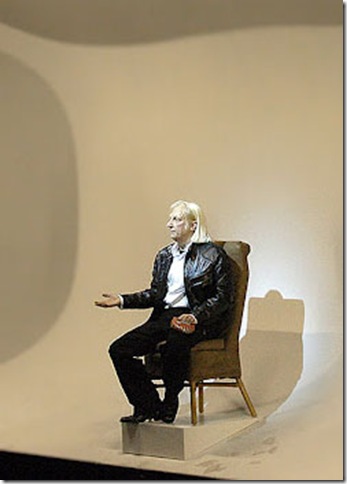 Yves Jacques in The  Anderson Project
The productions of writer, actor, and director Robert Lepage remain works-in-progress as they travel the world, often over a period of years. This is the case of his one-man show, Le Projet Andersen/The Andersen Project, first created in French in Québec City in 2005, and now playing in a largely English adaptation at ArtsEmerson's Cutler Majestic Theatre. In many ways it is dissimilar from the French version I saw in Montreal in 2006.
Robert Lepage has been replaced by his alter ego, the bilingual Québécois actor Yves Jacques, and a layer of cultural significance lost in translation. In Lepage's semi-autobiographical works, a Québécois leaves home and encounters the outside world.
29
Mar
Posted:
March 29, 2012 Thursday at 10:49 pm
Reviewed by Jane Baldwin
Ameriville takes us on a musical tour of the wrongs of America. A devised piece put together by the Universes, a quartet of energetic multi-talented performers who sing, dance, and act, it falls a little short of its mark, which is to entertain, educate, and activate audiences. Despite the company's claim "to break the bounds of traditional theatre," their goals and techniques are largely familiar. The political musical revue has a long history.
17
Mar
Posted:
March 17, 2012 Saturday at 10:33 pm
Reviewed by Alvina Ruprecht
  Ronnie Burkett and Ms Penny Plain.
Ronnie Burkett's puppet vision of the world has evolved enormously since it first began 25 years ago. One of his earlier works,  Awful Manors (1990),  the first of his performances we saw at the NAC, and that shocked a lot of people, revealed a finely crafted,  campy, extremely naughty activist puppet family raging against racism, homophobia, anti-Semitism and intolerance of all kinds. Feeding off  serious literary and theatrical erudition, his work was, and still is, a completely new phenomenon on the theatrical scene.  
Penny Plain shows to what extent the stage vision and puppet manipulation have grown immensely whereas the textual part of the show seems to be having problems. Still focussed on controversial current debates, this marionette theatre, is now tackling the  destruction of our planet, suggesting that  a new world order is in the making.  Burkett has now shown us his own personal cosmogony which is an intriguing step in a new direction.
17
Mar
Posted:
March 17, 2012 Saturday at 7:16 pm